Anamosa IA Party Buses and Limousines
---
The General Store Pub
---
12612 Stone City Road Anamosa, IA 52205 (319) 462-4399
There is a historic eatery that has a very unique feel. You are going to want to sit outside on the large outdoor desk if weather permits. The views from this deck which overlooks the beautiful Wapsipinicon River are breathtaking. The pizza served up here is some of the best you are going to find anywhere. But if you are a barbecue person, this is also the place you want to be. The sauces they provide are out of this world. So, get here quickly and let your every desire be satisfied.
Teddy's Barn and Grill
---
E-23 County Home Rd Anamosa, IA 52205 (319) 462-3040
We cannot recommend this establishment more highly. The building is very unique, it has three floors of dining possibilities. All of the menu items are delicious and we especially like the tilapia, barbecued pulled pork and porkchops. You are going to be placed into a pleasant food coma after having one of these. The servers are all very pleasant and your every need and desire will constantly be taken care of. Be prepared for a scenic setting and fulfilling experience.
Daly Creek Winery & Bistro
---
106 North Ford Street Anamosa, IA 52205 (319) 462-2525
Fantastic is the best word that comes to mind when describing this wonderful venue. Many people enjoy tasting some of the great wines before being seated for a tasty meal. There are some very good salads to choose from as a prelude to one of their fine entrees. The menu is varied and you are going to find each entree equally mouth watering. The staff aims to please and they are very knowledgeable and will answer any questions you may have.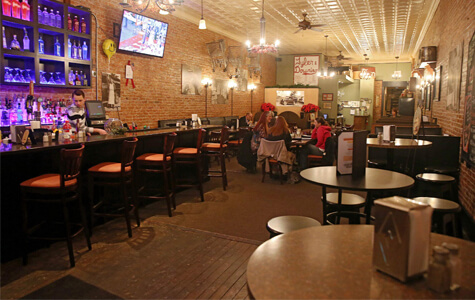 Tyler & Downing's Eatery
---
122 East Main Street Anamosa, IA 52205 (319) 462-5533
The family who owns this establishment have been doing business in Anamosa for over 100 years and they continue a great tradition with this fine establishment. We can guarantee that you will have a very special experience at this venue. Expect to be served the best of everything and that includes the best meat, the best ingredients and the best in customer service. The bartenders are exceptional and extremely knowledgeable. Don't miss this special gem.
Scooters Bar & Grill
---
10537 Shaw Road Anamosa, IA 52205 (319) 462-3663
The goal at this place is to serve up some of the highest quality food and drink possible. And its hard to argue with success. One of the menu items that we urge you to try is their smoked beef brisket, what a great balance between the smoky taste and tender meat. They have a number of tasty sandwiches. Big screens are all over the place for your viewing pleasure as well as video games if you have an itch. The staff is pleasant and attentive. Check it out and you be the judge.
---
Need a price quote?
Get it right here! All you need to do is to fill out the form below with all of the relevant information, and our reservation specialists will be able to get your next chauffeured luxury transportation adventure started. All we need to know is your name, how to contact you, the type of event you are planning, the date you require service, and the number of passengers we will be taking care of.