Williamsburg Bars & Restaurants
---
Myers Grill & Catering
---
303 Highland St S Williamsburg, IA 52361 (319) 668-2321
This isn't the kind of place that you go to for the atmosphere or the decor. The reason to visit this establishment is to partake in some of the most well prepared food that you will find anywhere. And it really doesn't matter what you order, whether its their wrapped shrimp, sea bass, bacon wrapped pork, chicken alfredo or many other fine choices, you are going to wind up in food heaven before you leave. The high praise for this unique place is definitely warranted.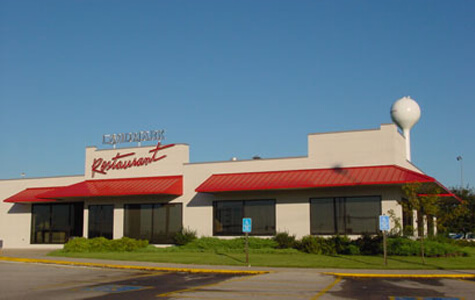 Landmark Restaurant
---
320 2nd Ave SE Williamsburg, IA 52361 (319) 668-2209
When an eating establishment stays in business for over 50 years, you know that they must be doing something right. You can always count on the staff to be attentive and to be interested in your well being. They serve great breakfast food all day long so keep that in mind. But if you are really looking for a special entree, we highly recommend the Grilled Ranch Supreme. You are going to be smiling in delight with every bite. A very satisfying experience.
Sundown Bar & Grill
---
112 State St W Williamsburg, IA 52361 (319) 668-2994
This is a must stop for many different reasons. The large outdoor deck is such a romantic setting to enjoy a great meal and drink. If you have never had BBQ Pulled Pork Pizza, then we suggest you order it on your first visit here. The breaded tenderloin is another choice that rivals the pizza, but truly there are so many great choices on their menu and none of them will be disappointing. And get ready for a shock during your experience. The staff actually operates like they care.
Maid-Rite Diner
---
2205 U Ave Williamsburg, IA 52361 (319) 668-1114
What a unique establishment this is. Believe it or not, they have been serving a single sandwich menu for over 80 years. Every day, the staff grinds out 100% choice beef to ensure that each patron is only served quality and freshness. They even make ice cream from the same recipe that has been used from the very beginning. They even have pizza and it is also very delicious. And one thing you can certainly expect when you visit here is courteous and very friendly service.
A8 Chinese Restaurant
---
214 W State St Williamsburg, IA 52361 (319) 668-8888
This may sound too good to be true, but you will not be able to find an item on the menu that you don't fall in love with. There are some very excellent choices on their menu and the staff takes great care in preparing each one. We will warn you to be prepared to take home some leftovers because the portions they serve you are absolutely huge. The sweet and sour chicken is our favorite. The prices are very reasonable and the service staff never disappoints.
---