Manchester Bars & Restaurants
---
Franklin Street Brewing Company
---
116 South Franklin Manchester, IA 52057 (563) 927-2722
This establishment is absolutely phenomenal. It has nine serving tanks which allows patrons the chance to sample a wide variety of beer styles. Many of their styles have won awards. All it will take is one sip of your favorite for you to realize that the staff here is very well versed in the beer making process. For food, they don't mind that you carry in anything from several nearby restaurants. For the craft beer fan though, you don't want to miss this wonderful venue.
The Bread Basket
---
113 East Main Street Manchester, IA 52057 (563) 927-4611
When you find a place that features great food, good service and a friendly atmosphere, you will not only find a success story but also a place that you need to jot down on your go to list. We can honestly say that the staff here strives to provide the best of the best in all of the above categories. And did we mention that everything is as fresh as possible and that includes the salads, top quality choice meats and some of the best homemade desserts you will ever experience.
Chuong Garden Chinese Restaurant
---
118 E Main St Manchester, IA 52057 (563) 927-2353
For Chinese food fans out there, we promise you that you will never find a comparable Chinese establishment. The Szechuan Shrimp is unbelievably tasty as is the Cantonese Pan Fried Noodles. The service staff is excellent and they truly care whether your experience is the best it can be or not. Be prepared for huge portion sizes, in fact it will be surprising if you will be able to consume your entire entree which means that you will have tasty leftovers for later.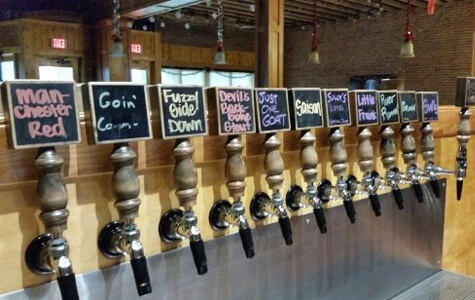 Fireside Pub & Steakhouse
---
205 S 12th St Manchester, IA 52057 (563) 927-9200
It won't take more than just a few steps into this wonderful venue before you will start to relax and enjoy every second. The menu offers some of the highest quality and best cooked meals you will ever place into your mouth including some of their signature items like their flame grilled Porterhouse Steak, smoked Nueske Chop, Pecan Walleye and Parmesan Crusted Tilapia. But there is more to be had from the bar where you pick from a large variety of mixed drinks.
Pin Oak Pub
---
2266 185th Ave Manchester, IA 52057 (563) 927-4653
Some of the finest steak and grilled fish can be found here. The chefs really know how to cook something to your specifications. To compliment your excellent entree, you are going to be delighted to have a choice from a very fine wine selection as well as anything you might desire from the full bar. The service staff has been well trained and they will do whatever you need in order to bring a smile to your face. This is definitely one of those venues that you do not want to miss, this should be a regular stop for you.
---