Alburnett Bars & Restaurants
---
Whitey's Bar and Grill
---
125 E Hwy 30 Lisbon, IA (319) 455-3191
One of the most popular bars in the area is Whitey's Bar and Grill. Whitey's is a casual, upbeat bar where you can find good people, good food, and good beer - and who doesn't love hangout with cool people and enjoying hot pizza and cold beer? Prices are super affordable and some of the most friendly and welcoming service can be expected at this locally owned and operated bar.
Brick's Bar and Grill
---
320 2nd Ave SE Cedar Rapids, IA (319) 362-7425
Friendly service with a smile, tons of beer on tap, and amazing prices are what you can expect to find at Brick's Bar and Grill in Cedar Rapids! They have amazing craft beers from all over the world - they actually have the best craft beer selection available in Eastern Iowa. They have food as well, with favorites like spaghetti, soups, club sandwiches and more! It doesn't get much better than Brick's, so stop in the next time you're out drinking in Cedar Rapids!
Liquid Lounge
---
305 2nd Ave SE Cedar Rapids, IA (319) 362-1710
The best dance club in Cedar Rapids is by far the Liquid Lounge! This club has the hottest music, the best DJs, and a huge dance floor! Drinks are strong, prices are low, and service is quick and efficient! The bartenders are able to mix up any drink you can imagine! They draw a great crowd so you're sure to have a super fun time!
Tic Toc
---
600 17th St NE Cedar Rapids, IA (319) 364-9685
Tic Toc is a popular Cedar Rapids English pub/dive bar. Tic Toc is a staple in the Cedar Rapids bar scene, and if you ask anyone in the area what their favorite bar is, there's a good chance they'll answer with Tic Toc! Great food, low prices, and a pretty darn good selection of beer both on tap and by the bottle! They've got a good liquor selection as well, and the mixed drinks are made strong.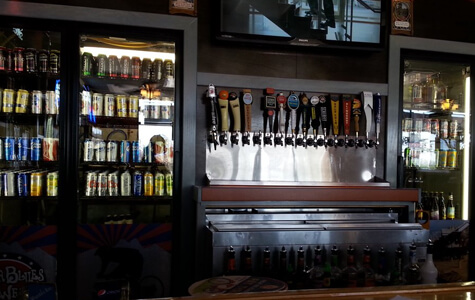 Broken Spoke
---
2010 Sylvania Ave NE Cedar Rapids, IA (319) 826-3409
One of the highest rated bars in Cedar Rapids has got to be the Broken Spoke. This casual bar is great for brunch, lunch, or late night drinks! It's a bit of a "biker" bar, being popular with both motorcycle crowd and cyclists of bicycle variety! They've got plenty of beer available from all over, including some brews that you might not typically see at other bars. Service is friendly and the prices are great!
---